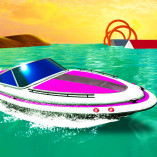 Jet Boat Racing
Jet Boat Racing is a racing boat game that allows you to compete with friends or other players around the world. Let's play to be champions.
In this action-adventure video game, you'll be able to pilot high-speed jet boats through treacherous swells and obstacles. The game's over 20 distinctive and entertaining levels will transport you to an actual jet boat race. To reach the top of the leaderboard, you must navigate your watercraft around perilous turns, avoid colliding with obstacles, and outrace other players. The gameplay is straightforward and intuitive, yet still challenging. The user has complete control over the speed, braking, and turning of the boat as it navigates the track's obstacles. Sensitive and adjustable controls enhance the excitement of piloting a jet boat. This is your chance to prove your worth and rise to the summit of the hierarchy, where only the best will survive.
Do you want to have some exciting playtime? Next, you should go to the game: Trucks Race, Grand Nitro Formula
How To Play Jet Boat Racing
To control the direction your boat goes in, you can use the arrow keys on your keyboard or the controls on-screen.