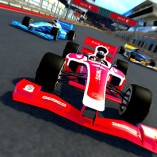 Grand Nitro Formula
Grand Nitro Formula is a high-speed racing game. Let's join forces to participate in thrilling races on racetracks around the world!
The heart-pounding soundtrack is the ideal accompaniment to the realistic simulation of high-speed driving that can be found in Grand Nitro Formula. The degree to which players personalize their rides affects the number of chances they have to win a high-performance automobile. Participate in online multiplayer fights against the game's AI, other players from across the world, or any of the other various game modes available. You are able to relive the heart-pounding automobile chases from the original game in Grand Nitro Formula, in addition to being able to customize your vehicle, gain access to more content, and race your way to victory.
Have you been searching for alternatives to Grand Nitro Formula? Then give the Bike Vs. Train game a shot right now.
How To Play Grand Nitro Formula
During the course of the race, you should do your best to stay clear of other vehicles and obstacles. Your speed can drop after a collision, and you might even be kicked out of the race altogether.