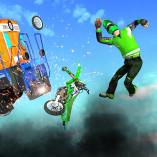 Bike Vs. Train
Bike vs. Train is an action game where players confront a giant train in an uncompromising battle. Let's try our best to win this!
You should also be on the lookout for money and other objects that you can pick up along the road that you can put toward the purchase of enhanced bicycles and other modes of transportation. If you find money and other items, you can put that money toward the purchase of upgraded bicycles and other modes of transportation. During your quest to run, you will make your way through a number of stunning places, some of which will be cities, some will be exotic rainforests, and still others will be bleak deserts. In order to finish the game without crashing into approaching trains and successfully navigating the game's many levels, you will need to have decent driving abilities and lightning-fast reactions.
How To Play Bike Vs. Train
You can navigate the car around any obstacles by using the appropriate arrow key.