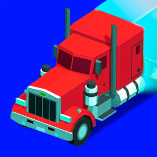 Trucks Race
Trucks Race is an exciting racing game where you will become a truck racer and participate in thrilling races on harsh tracks.
Release your inner explorer behind the wheel of one of these potent vehicles and effortlessly traverse the world's most challenging terrain. Drive a sleek, powerful car through a labyrinth of obstacles and treacherous terrain while experiencing the rush of complete control. Feel your heart rate increase as you face off against other deadly adversaries who are all competing for the same prize: the title of champion. The finish line race is a nail-biter, and only the most talented and dedicated drivers will prevail. Do you have what it takes to channel your inner racer and claim victory? Learn about the fascinating world of transportation by examining our gorgeous truck fleet. Enjoy the thrilling experience of choosing a truck from a stunning collection of automobiles.
How To Play Trucks Race
You may control the car by using the arrow keys or the buttons on the screen. For forward motion, press the up arrow key; for reverse, press the down arrow key; and for left and right turns, use the left and right arrow keys.