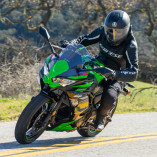 Kawasaki Ninja 650 Slide
Kawasaki Ninja 650 Slide is an exciting and challenging racing game. The game gives players a realistic driving simulation experience.
Gamers can take part in racing competitions against formidable opponents. The player must navigate obstacles and treacherous bends while managing the entire character like a professional racer in order to cross the finish line as quickly as possible. Gamers can develop their driving abilities, modify their cars, and create custom ones for all kinds of streets. The Kawasaki Ninja 650 Slide's multiplayer option lets users challenge friends and riders from across the globe. Take the track and excel as a racer. Discover the realm of high-speed racing, experience thrills, and spark passion with the Kawasaki Ninja 650 Slide!
You can refer to games of the same genre such as:
How To Play Kawasaki Ninja 650 Slide
Use the up and down arrow buttons to change direction and speed. You can also jump over obstacles at the same time by using the jump button.