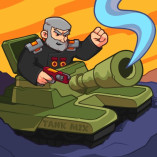 Tank MIX
Tank Mix is one of those games with nice, casual graphics. The game includes two cool PVP modes that are ideal for playing with friends.
Drag one tank on top of the other to combine them. Tanks on the same level are the only ones that can be merged. Combat tanks can move on their own and shoot at enemy ships without any help. In this game, your goal is to combine different types of tanks into a new monster. Tanks can be linked together to make them stronger. They can be added to the battlefield to kill the alien ships on their own. Just move the tank you want to use onto the battlefield. After each successful battle, you'll get coins that you can spend on copies of tanks you've already found. Either flyable drones or the storefront can be used to get different boosts. To stop aliens from taking over, you can make the most advanced weapons ever made by humans.
How To Play Tank MIX
Use mouse to play.