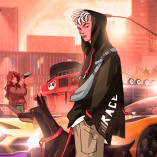 ROD Multiplayer Car Driving
Rod Multiplayer Car Driving is a racing game where you can compete in online multiplayer. Are you a good racer? then go here to prove it.
Compete with drivers from all around the world as you race wild cars through the winding streets of a massive 3D metropolis. Don't blow such a great opportunity! Taking part in the game's online multiplayer extreme vehicle racing mode against up to 10 other players at once will offer you a rush like no other. Maximize your potential and speed past the competition. Experience the most lifelike online racing simulation available, designed for a large number of players at once. Experience the thrill of online multiplayer racing with a group of hip people. Exciting activities like online multiplayer racing, parkour on enormous ramps, rocket displays, and more are available to get your blood pumping. Get ready for an unforgettable adventure.
How To Play ROD Multiplayer Car Driving
To steer the vehicle, use the appropriate arrow key. Click and select options with the mouse.