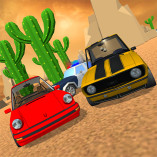 Police Car Chase Simulator
Police Car Chase Simulator is a simulation action game that puts players in the role of a police officer fighting crime on the road.
An experienced police officer in a high-tech patrol car is your guise throughout the game. Your job is to drive the car and catch the dangerous criminals you're following. You'll have to engage in dangerous pursuits, deal with difficult situations, and put your driving skills to the test all in the name of maintaining law and order. There are a variety of gameplay modes in the game, from simple pursuit to more involved objectives that require more time and expertise. Players can upgrade their fighting abilities by customizing the look of their cars and obtaining stronger weapons. You and your friends can race to the finish line or try to get the highest score.
How To Play Police Car Chase Simulator
Use the mouse to choose a car and buy items in the store

Arrow key to control a car to catch criminals.