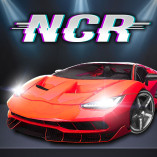 Night City Racing
Night City Racing is an exciting racing game specially designed for fans of speed and adventure. Let's play now to have an amazing race.
These vehicles have interchangeable engine and body panels. In the game, players compete in night races across the city, pitting elegant sports vehicles against one another in an attempt to take first place. With its stunning visuals and lively soundtrack, the game offers an amazing racing experience and a lasting sense of velocity. This vehicle simulator game has two player modes in addition to one. In addition, Night City Racing provides players with an extensive selection of vehicles to choose from, ranging from extreme supercars to authentic electric fast sports cars. Prepare yourself for a space race by taking on Night City Racing!
You can refer to games of the same genre such as:
How To Play Night City Racing
Press the "up" and "down" buttons to increase and decrease speed, accordingly. Use the left and right buttons to go left or right.