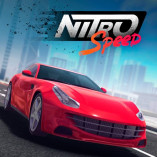 Nitro Speed
Nitro Speed is a high-speed car race. Here, you can confidently launch your car with lightning speed and ice to the finish line.
Test your racing mettle with our fleet of high-octane racecars. Get the most out of your vehicle, experience the rush of burning rubber, and race to the finish line in record time. Pick your thrill ride and prepare for the journey of your life. Feel the sweet spot where realistic and fun driving dynamics meet. In our brand new racing game and driving simulator. You may experience the excitement of addictive gameplay powered by an infinite desire and competitive spirit. Get your heart racing with historic muscle vehicles and exotic supercars. Enjoy the ride in comfort and style with our user-friendly and adaptable driving controls. Every trip will be relaxing and stress-free for you.
How To Play Nitro Speed
Use the appropriate arrow key to easily control your vehicle's direction.