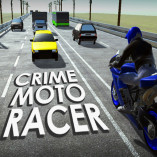 Crime Moto Racer
Crime Moto Racer is an action racing game. In the game, you will be participating in thrilling races on city roads and vying for the top position.
In addition to legitimate tasks, players can take part in illegal ones, including stealing banks, catching intruders, and supplying drugs. You'll need to budget the money you make from these endeavors so you can buy better parts for your car and gain access to more customization options. Your mission is to become the best racer in the city by racing freely around it and winning races. Get ready to become a fantastic racer and criminal in Crime Moto Racer, an adventure packed with danger and action.
You can refer to games of the same genre such as:
How To Play Crime Moto Racer
There are targets, like coins or points, along the path. Get as many as you can so you can level up and gain experience and points.