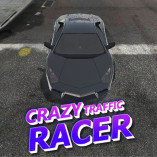 Crazy Traffic Racer
Crazy Traffic Racer has many difficult levels for you to overcome, including driving a car in a busy city. Let's speed up to win the race.
You'll take control of an automobile and navigate it across the game's expansive city streets, dodging traffic and avoiding hazards. Crazy Traffic Racer simulates real-world driving conditions with a stunning 3D visual interface and immersive audio. There is a wide range of automobiles available to you, from extremely fast sports cars to sturdy pickup trucks. Coins can be gathered to improve your ride or buy additional rides in the game. Enjoy hours of excellent amusement and a rush of adrenaline when you come out on top in this exciting race game.
How To Play Crazy Traffic Racer
Feel the adrenaline rush as you race toward the track's many alluring targets, such as shiny coins and high-pressure points.