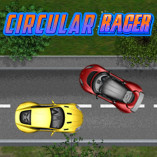 Circular Racer
Circular Racer is not just a game; it's an extraordinary journey that pushes your limits to be a true racing champion. Let's play now!
Participate in the action, and you'll find that the excitement of the race will captivate you. Put yourself in the driver's seat and hit the road with nothing but raw adrenaline. The one and only racing game that can set your chest on fire and make your heart race As you enter the fascinating universe of enticing spheres, prepare yourself for an amazing voyage. Your mission is to drive around in a circle without allowing your car to touch any of the borders or go totally outside of it.
Related Games
How To Play Circular Racer
Use the arrow keys (up, down, left, right) or W/A/S/D keys to control your vehicle.

Move up/down to change lanes and avoid collisions with obstacles.