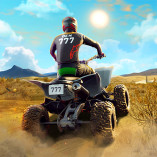 ATV Bike Games Quad Offroad
ATV Bike Games Quad Offroad is an exciting ATV (all-terrain vehicle) racing game where you join in adventurous off-road adventures.
Compete against fellow thrill-seekers, pushing your limits and embracing the thrill of the race. Get ready to unleash your inner champion and have an absolute blast along the way. Get on your bike and let the excitement begin! Embark on an exhilarating adventure through the untamed wilderness with our wide selection of ATV vehicles. Immerse yourself in the breathtaking beauty of natural landscapes as you conquer rugged terrain and experience the thrill of off-road exploration. Choose from our diverse range of ATVs and let the wild become your playground. Get ready to unleash your inner adventurer and create unforgettable memories amidst the untamed beauty of nature.
Related Games
How To Play ATV Bike Games Quad Offroad
Use the arrow keys (up, down, left, right) or W/A/S/D keys to control