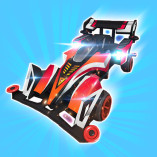 4WD Race Legend
4WD Race Legend is an exciting racing game where you will become a super racer and challenge fierce races. Let's play now!
There is a vast selection of four-wheel-drive vehicles on the market today, and each one features a one-of-a-kind mix of advantages and disadvantages that are exclusive to that particular model. The racing video game 4WD Race Legend tasks players with navigating strong 4-wheeled vehicles over a variety of challenging terrains via a variety of different routes. You have the choice of playing through the game's single-player story mode, playing with other people in the multiplayer mode, or taking part in one of the weekly events.
How To Play 4WD Race Legend
Drive your car using the arrow keys or the on-screen controls. Use the up arrow key to speed up, the down arrow key to slow down, and the left and right arrow keys to change direction.