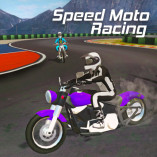 Speed Moto Racing
Speed Moto Racing is a fast motorcycle racing game. With beautiful graphics, the game gives players great racing experiences.
The players' goal in these action-packed street races is to triumph over many challenges and come in first place. Your success or failure will depend on how well you are able to drive in challenging situations while retaining control of the vehicle. This racing game will keep you on your toes because there are so many different courses and obstacles for you to conquer. You will compete in races in a variety of environments, from crowded urban areas to expansive meadows to harsh environments such as arid deserts and impenetrable forests. You can enhance the control of your car as well as its top speed by purchasing and upgrading a number of its components.
How To Play Speed Moto Racing
You have the ability to control your speed as well as your direction by using the up and down arrow keys, as well as the left and right arrow keys, in that order.