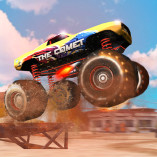 Monster Truck Stunt Racing
Monster Truck Stunt Racing not only requires speed but also requires control. You will perform high jumps to win the championship title.
In the game, you'll take part in races with big stakes that take place on a wide variety of thrilling tracks. To navigate the winding roads, untouched grasslands, and challenging natural elements, you will need to have a high level of driving expertise as well as a strong will. The game's breathtaking 3D visuals and rich sound design provide for a once-in-a-lifetime experience behind the wheel of a racing vehicle. The game includes everything from single-player races to multiplayer challenges. Additionally, the game features a multiplayer mode that lets players compete against one another in exciting races. If you have a passion for racing and you want to feel the rush of adventure, you should give Monster Truck Stunt Racing a try as soon as you can.
How much fun is this game for you? You can also compare it to other Hill Dash Car games in the same genre if you like.
How To Play Monster Truck Stunt Racing
You can customize and upgrade your monster truck to increase its performance and power.

Use mouse and arrow keys to play