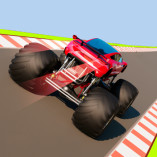 Monster Truck Sky Racing
Monster Truck Sky Racing is the new 3D game out. You will become a professional racing boy. Join tournaments to buy yourself a luxury car.
There are twelve different racing grounds and ten monster trucks in total. There are now translations of this work available in 16 languages. Earn cash by competing with monster trucks as you make your way through the race tracks. Virtual racetracks in the sky make it possible to compete against computer-generated opponents. A car can be bought with the money. One option to make some serious dough is to go into car racing. You'll need a bigger bank account if you want to drive around in style as your career advances in the organization.
How To Play Monster Truck Sky Racing
Use the mouse to select and use the arrow key to control the car.