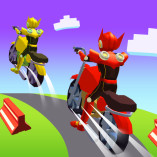 Mini Moto Speed Race
Mini Moto Speed Race is a cool motorcycle racing game. In the game, players play the role of minicars. Try your best to help them win!
Control the miniature motorcycle as you race against other opponents for victory in these exhilarating competitions. Drive through a variety of landscapes, such as cities, deserts, or jungles, while avoiding obstacles. A thrilling and difficult racing experience is provided by the Mini Moto Speed Race video game, which has a strong sensation of speed and stunning 3D visuals. To increase performance and defeat challenging opponents, you can modify and customize your vehicle. Are you prepared to win the Mini Moto Speed Race and conquer the tracks? Let's begin this never-ending speed adventure and win the race!
How To Play Mini Moto Speed Race
Use the arrow key to move the car.