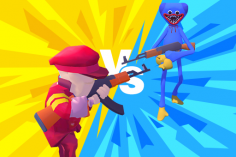 Huggy Army Commander
Huggy Army Commander will put you in battle with Huggy. Show off your shooting skills and try to win the tough, fiery match.
It is imperative that you maintain command of the troops and acquire military cards in order to expand your base of operations if you want your mission to be successful. Huggy Army Commander is a fantastic game to play if you enjoy simulating the role of a commander in charge of an army. You have no choice but to launch the assault as soon as your warriors are prepared. It is imperative that you have all of your military cards in order and ready to go before the conflict even begins.
How To Play Huggy Army Commander
Tap and click to play.