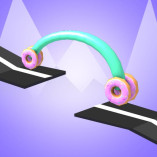 Draw Car Race
Draw Car Race is where players can create racing tracks and design their own cars. This cool game combines drawing and racing. Play now!
The drawing tool allows you to make your own unique racetracks. You can increase the difficulty of the race by including obstacles like sharp twists, steep declines, and challenging hurdles. Before you can use your custom racecar, you must complete its design. You can customize the car however you like in terms of color scheme and overall layout. Altering the car's appearance is possible by installing new wheels, an alternative powertrain, and other add-ons. It features multiple game modes, such as online multiplayer and racing against the computer. It's a chance to test your driving talents against those of people all across the world.
How To Play Draw Car Race
Each level will have its own goals, like finishing the race in a certain amount of time, getting through checkpoints, or beating other players in a race. Try to reach these goals so you can move forward in the game.