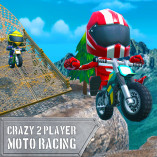 Crazy 2 Player Moto Racing
Crazy 2 Player Moto Racing is a specially designed game for 2 player. In this game, you and your friend will participate in a thrilling race.
In this game, you can choose from a broad selection of motorcycles, ranging from high-speed vehicles to rugged off-road machines. You can increase your car's speed as well as its handling by making modifications and enhancements to it. The competitions are held in a variety of environments, each of which is both unique and thrilling, such as congested cities, desolate wastelands, and treacherous rainforests. You'll need to be able to overcome obstacles such as barriers and traffic if you want to come out on top in each race. This game will take you on thrilling adventures in the racing world, and if you're skilled enough, you might even come out on top.
How To Play Crazy 2 Player Moto Racing
Move up: Use W key or up arrow.

Move down: Use S key or down arrow.

Move left: Use A key or left arrow.

Move right: Use D key or right arrow.