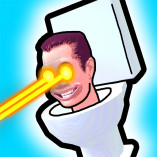 Agent Walker vs Skibidi Toilets
Agent Walker vs Skibidi Toilets lets players become spies. Your mission is to destroy the criminals who are plotting to take over the city.
In this urban adventure game, you will traverse canyons and tunnels in addition to skyscrapers. As you progress through the voyage, there will be enemies to battle, puzzles to solve, and information to collect. With an extensive arsenal of cutting-edge weapons and surveillance equipment. With firearms, daggers, or electronic devices, drones and security systems can be activated. In addition, the game provides you with some flexibility in attaining your objectives. You have the option of sneaking up on your opponents and attacking from the shadows, or you can go directly for the throat.
To find another game like the one you just finished playing. Let's play the Skibidi Toilet Mayhem game.
How To Play Agent Walker vs Skibidi Toilets
To move around and manipulate things, just use your mouse and keyboard.