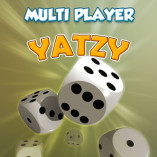 Yatzy Multi player
Yatzy Multi Player is boardgames you can play with your friends online. This is an extremely cool multiplayer game, bringing a lot of fun.
You can adjust your game to suit the preferences of whoever is playing alongside you the most because there are multiple options available. Yatzy is a traditional game that can be played at social gatherings to offer opportunities for both amusement and relaxation. A excellent method to strengthen the emotional bonds you share with your close friends is to engage in friendly rivalry. You can choose to click the "quick game" button to join an already-running game that piques your interest rather than beginning a brand-new one from scratch.
How To Play Yatzy Multi player
Tap to roll the dices. You have 3 turns per user.