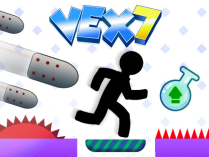 Vex 7
Vex 7 is the most recent installment in the renowned Vex series. Visual changes will make the game a lot more fun to play.
Even if the stickman runs into fresh problems, we are going to keep providing assistance for him. As the game goes on, players will have to use their skills more and more because new challenges and enemies will appear.You are tasked with controlling the movements of the stick figure in order to ensure that he is able to dodge dangers such as arrows, falling rocks, and thorny tunnels. Be aware that there may be surveillance cameras in the area as you get closer to the finish line. They will immediately begin firing dangerous lasers that have the potential to launch you into the air. Along any given road, there is a good chance of coming across a number of expensive objects. As a result, you will be in a better position to deal with challenges successfully in the event that they materialize.
How To Play Vex 7
Use WASD or arrow keys to move.