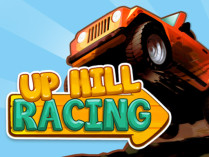 Up Hill Racing
Up Hill Racing is the new 2023 arcade game.The game will bring you a car racing experience like no other. Try playing now.
This game has great 2D visuals and fun gameplay over all of its numerous levels. Each kind of transportation has its own distinct advantages and room for development in terms of efficiency and flexibility. You'll use a monster truck, a bike, a convertible automobile, and even a refrigerator to reach the peak. The best strategy is to race as fast as you can, master the steep inclines of the more challenging car stages, and beat your friends' times. The goal is to reach the top of the hill with as many steps and as much vertical rise as possible. You can enhance your earnings by picking up coins along the way or by doing flips to gain airtime.
How To Play Up Hill Racing
Try to go as high and as far as you can and reach the top of the hill. On your way you collect coins or you can do flips and gain air-time to earn even more. Put the pedal to the metal, climb hills in challenging levels and beat all your friends' high scores!