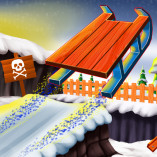 Snow Rider 3D
Snow Rider 3D is one of the hottest games this Christmas season. Let's play to fly in the sky, have fun and let's go give gifts.
You will be in charge of delivering Santa Claus's gifts. When you play this game, your quick thinking, accuracy, and reflexes will be put to the test for sure. You could have a contest with your family members to see who can get the most points. It's almost a sure thing. The people who made this .IO game wanted people to feel like they were always having a holiday. At the beginning of this 3D game, you'll be standing in front of a huge mountain, with a beautiful winter wonderland all around you. During the game, you'll have the chance to win one of more than ten amazing sleighs as a prize. Stay away from obstacles and instead work toward the goal of jumping over them.
How To Play Snow Rider 3D
Use mouse to play.