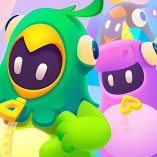 Run Boys
Run Boys will organize many races and very attractive games. This is new .IO game in the arcade series. Definitely won't let you down.
To be successful in this game, you will need to master the skills of running, sliding, jumping, flipping, falling, and punching. Players compete in crazy races against one another while navigating crazy arenas that are packed with challenging obstacles. Take turns fighting alongside your friends in the battles that are going on. Avoid going around roadblocks and changing your appearance settings. The odd, cartoonish, and garish appearance of its exterior is guaranteed to put a smile on your face.
How To Play Run Boys
Move with the arrow keys/WASD/Dash to jump.