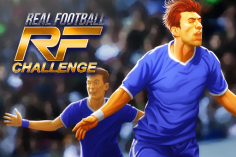 Real Football Challenge
In Real Football Challenge, you will put yourself to the test in a competitive football setting that is both tough and enticing.
The game consists of 16 stages that are sufficiently distinct from one another to prevent players from becoming bored with the experience. ensures that playing games is a pleasurable experience that does not lead to stressful feelings. You will need to improve your speed, intelligence, and overall ball control as you progress through the game's levels in order to overcome the more challenging obstacles that you will encounter. The football video game Real Football Challenge is a lot of fun, and it's also really simple to pick up and play.
How To Play Real Football Challenge
Follow the instructions on the screen to play.