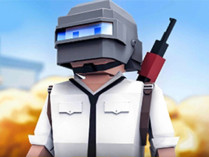 PUBG PIXEL
Pubg Pixel will put you in a harsh environment. Here, you will have to fight to become the last survivor. Can you do it and win this?
The greatest battle you'll ever face is coming, so get ready. Whether or not you make it through this epic battle will depend on you. Demonstrate resolve, expertise, and dogged determination to succeed. This rare mixture creates the ultimate victor, unbowed by life's trials and tribulations. A battle royale with one hundred competitors is thrilling. Speculate on the improbable. Win a brutal battle for dominance, either alone or with a strong team, and emerge victorious. adrenaline rush of finishing a game in one sitting.
How To Play PUBG PIXEL
To move around, use the arrow keys. Pressing the F key will allow you to pick up the weapon; the mouse can be used to fire or enter the aim menu.