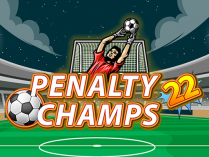 Penalty Champs 22
Penalty Champs 22 is a game that soccer fans who love games are very interested in. Game mechanics will make you play them all the time.
Choose your favorite national team, take and save penalties, and score goals against tough opponents. Raise your hand, assume command, and lead your team to victory. There are numerous game modes in the game. The group stage is optional when playing in the championship. The game is compatible with desktop computers and mobile phones. As a result, there will be no interference between your various electronic gadgets. Countless challenges await you in this game, making it impossible to put down. You can also play this game in 2 player mode with your friends and form bonds of affection.
When playing the game, you can save time by skipping the tutorial and ads by using a simple method.
How To Play Penalty Champs 22
click three times to determine the direction, height and strength of the shot.

on the place where you want the goalkeeper to dive and click one (immediately before the shot you will see a target that shows where the opponent will shoot).