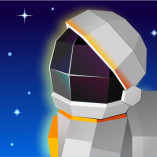 Moon Mission
Moon Mission will give you the opportunity to set foot on the moon. Let's discover all the interesting things in this arcade game.
Utilizing the wormhole to increase your altitude can allow you to travel further and at a faster pace. Throughout the progression of the game, you will be assigned a diverse range of missions to accomplish. In order to achieve a high score, it is advisable to complete the tasks as swiftly as you can. The game's stunning visuals will transport you to another world and leave you with a smile on your face. Discover additional information about the Milky Way galaxy and the celestial bodies that comprise it. A wide range of resources are available from your lunar base. To successfully launch your unique rocket, you must gather supplies from multiple planets simultaneously.
How To Play Moon Mission
If you need a quick instruction on how to play, just click the game itself.