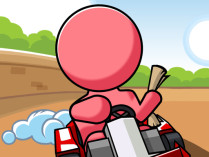 Mini Kart Rush
Mini Kart Rush is a 3D game that gives you the task of winning a car race with many people. Master the speed and try to be at the top.
Throughout the history of this venue, there has never been a race that featured such a high level of competition. You have the opportunity to participate in an incredible race, and it would be wise to take advantage of it. To avoid incurring a loss, it is necessary to win at least fifty percent of the races in which you compete. Increase your speed and make contact with other players as much as possible. Playing the game should be a lot of fun due to its peppy and humorous score.
How To Play Mini Kart Rush
You can choose anything with the mouse, and you can drive the car with the arrow keys.