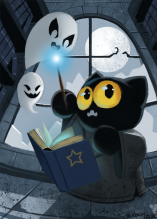 Magic Cat Academy
In Magic Cat Academy, the bad guy is attempting to harm humanity by sending ghosts. Kill a ghost with magic for your big moment.
Momo is a Cat, as a student at the Witches' Academy, will be able to undergo metamorphosis at the player's command. Momo must battle a slew of ghosts and bosses across five levels. Fighting has erupted throughout the school, including in the library, cafeteria, classrooms, gym, and even on the roof. You can battle the ghosts with your pet by clicking and swiping the mouse in the directions indicated by the emblems above their heads. To win, you must be quick on your feet, with quick hands and sharp eyes. Please make every effort to succeed.
How To Play Magic Cat Academy
Use mouse to play.