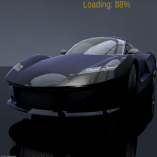 Madalin Stunt Cars 3
Madalin Stunt Cars 3 will let you explore a large city with many terrains. You can move freely in these areas and enjoy everything.
This video game, which was developed by Madalin Games, provides players with the breathtaking opportunity to drive in a large open space. In this game, you have access to a diverse lineup of automobiles, ranging from sleek sports cars to tough SUVs, depending on the mission at hand. Different players have access to a wide variety of car options, each of which possesses its own unique appearance as well as characteristics. The average race in Madalin Stunt Cars 3 is just the beginning of the action. You can improve your driving skills by going through the game's numerous lessons on how to operate the cars. You have the potential to get high points by performing feats such as rolling around spirals and jumping over ramps, among other possible moves.
Do you want to have some exciting playtime? Next, you should go to the game: Impossible Monster Truck Race Monster Truck Games 2021, Speed Cars Jigsaw,Madalin Stunt Cars 2
How To Play Madalin Stunt Cars 3
Try to complete the mission in the best way to earn points and progress in the game.