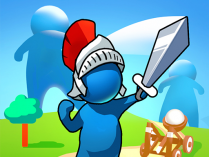 Kings Clash
The Kings Clash game lets you put together your own army. Put groups of henchmen together to make heroes, and then use a variety of weapons to attack castles.
Get power and become the most important thing. This game is great for people of all ages because it has easy-to-use controls, fun and addicting gameplay, and stunning 3D graphics. You need more than one army or unit to work together, increase your power, and beat out the competition.
Taps and drags are used to control the game. Try to combine similar units to make stronger ones. If you tap in the middle of the screen, you can start playing. In the middle of a fight, a tap can send help to where it's most needed.
How To Play Kings Clash
The game is controlled by taps and drags.