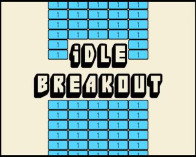 IDLE BREAKOUT
Idle Breakout is an excellent game to play if you're looking for something simple and relaxing.
You do not need to be hooked up to your screen to play, and the game is forgiving if you make a mistake. The worst that may happen is that the next update will be delayed somewhat. You cannot play Idle Breakout in a manner that causes anger or stress. The game is the exact opposite of the World's Hardest Game, where even the smallest mistake can lead to a huge loss.
Idle Breakout requires a great deal of strategy, despite the player's inactivity. Even if there are numerous ways to invest your money, we believe you should not hoard it entirely. Purchase as many starter ball as possible before purchasing plasma balls, as they are the least expensive choice. Generally, it is prudent to spend money as soon as it is obtained and to make changes as soon as possible
How To Play IDLE BREAKOUT
Click on a brick to break it and score points.

Use points to purchase new balls with different abilities and upgrade them. Balls will automatically bounce and break bricks to score more points.