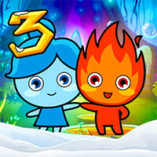 Fireboy And Watergirl 3
Fireboy and Watergirl is a well-known game that is being played right now on many streams. The game is a lot of fun to play and makes people laugh because of the challenges.
Game can be played by two people at the same time, so you can have fun with your friends.The game is mainly about two main characters. Water is dangerous for the fire boy, and if the girl made of water touches lava, she will turn into steam. The game has a lot of different parts. In Fireboy and Watergirl 3, players look for precious stones in an Eastern temple. Those stones hold the vast divine power of gods who have been forgotten for a long time. Let's get rid of the enemy, got it? Let's work together to get to the top.
How To Play Fireboy And Watergirl 3
Use THE ARROW KEYS to control the Fire.

USE THE A, W, S, and D KEYS to control the Water
If you love game like Fireboy and Watergirl, you can check out Action game or Battle game