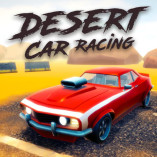 Desert Car Racing
Desert Car Racing not only requires excellent driving skills but also requires players to have quick reflexes to win the race.
To succeed in this driving game, you'll need to steer clear of obstacles and tight turns as you make your way through a desolate desert landscape. The goal of the game is for you to get good at driving and win several intense races. The game has a wide variety of vehicles, from sturdy off-roaders to lightning-fast supercars. To suit your driving needs and tastes, you have complete freedom to modify and improve your car. Online races against friends are also a lot of fun. Desert Car Racing satisfies the need for speed and adrenaline with its engaging gameplay and sense of adventure. Get ready to start at the bottom of the desert food chain and race to the top.
Do you ever find yourself wishing there were more games like Desert Car Racing? Yes? Then pop in the Ace Drift and see whether it works.
How To Play Desert Car Racing
During the course of the race, you should do all in your power to avoid colliding with any of the other obstacles or vehicles.

Your speed may decrease as a result of a collision, or the incident may even cause you to be disqualified from the race.