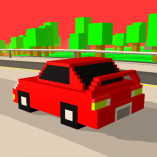 Crashy Racing
Crashy Racing is a racing game with attractive gameplay. Enjoy long speed rides and stay away from everything dangerous around. Play now!
As you advance through the game, the difficulty level will grow, making it harder to achieve high scores. Make a good-faith effort in whatever you do. The time will come when you'll have to demonstrate your driving skills to someone else. In order to avoid a head-on collision with an oncoming vehicle or an obstruction, you have the option of making a U-turn either to the left or the right, depending on the circumstances. Make every effort to stay out of the way of vehicles approaching from the opposite direction. Continue playing for as long as you possibly can in order to rack up the most points possible.
How To Play Crashy Racing
The game is controlled by using the arrow keys and the mouse.