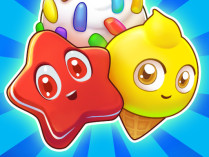 Candy Riddles: Free Match 3 Puzzle
Candy Riddles Free Match 3 Puzzle has colorful graphics. Lots of cute animals and lots of cool puzzles are waiting for you. Play Now!
In our interesting match-3 game, you will be able to link delicious ice creams, pop beautiful cupcakes, and match three characters. Even before you begin playing the game, you won't be able to tear your eyes away from the irresistible cookies and vibrant candies, not to mention the hilarious animations. You can win great prizes if you move quickly through levels that get harder and harder while matching tasty items. You will be able to make faster progress in the game as a result of this.
How To Play Candy Riddles: Free Match 3 Puzzle
Clear the board by finding groups of three or more of the same colored objects. Play the puzzles and have fun!