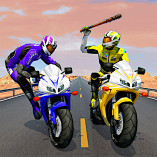 Biker Battle 3D
Biker Battle 3D is a racing action game where players will become talented bikers and participate in dramatic battles on the roads.
Incredible 3D graphics and enveloping sound design take players to different worlds. Explore neon-lit cities and take part in thrilling racing events. Put up enough cash to invest in a brand new, high-performance car or to make some upgrades to the one you already own. Additionally, your biker can be personalized through a wide variety of clothing and accessory choices. Players must face off against other motorcyclists in thrilling, action-packed battles. Mastering the bike's controls and picking a reliable weapon are prerequisites for reaching the top of the motorcycling rankings.
How To Play Biker Battle 3D
During the race, try to avoid collisions with other obstacles or vehicles. Collisions can reduce your speed or even disqualify you from the race.