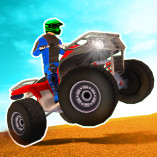 ATV Ultimate OffRoad
ATV Ultimate OffRoad is a thrilling and adventurous racing game where you participate in challenging off-road racing with powerful cars.
You can customize your own high-end ATV and go to different wilderness places in this game. You'll have to overcome rough terrain, meadows, deserts, and more on your way to the end. There will be slippery roads and high inclines to contend with as well. Put your driving skills to use and aim to win this challenging race. With magnificent visuals and rousing sounds, the game successfully emulates the racing environment found in nature. You'll feel the ATV's strength and speed as you overcome obstacles and compete in challenging races. There are several ways to show off your skills in this game, from racing against other players to setting world records in time trials.
How To Play ATV Ultimate OffRoad
You may control the car by using the arrow keys, and you'll need to use the mouse to make selections and decisions.