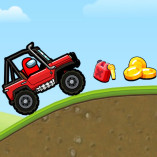 Among Hill Climber
Among Hill Climber there is one among us who is having difficulty controlling the car up. Let's help him and do some amazing stunts.
You should begin your climb up that incline right away! You can test out a wide range of climbing scenarios by using all 14 of the available climbing maps. Take the wheel of everything from motorcycles and taxis to tanks and trucks, and feel the surge of adrenaline that comes with it. The possibilities are really promising. The playable characters in Among Them cordially invite you to join them on an exciting journey that will take place in a variety of different environments within the game. During your travels, you can stumble across gold and gasoline cans, among other treasures. Find a selection of more than ten incredible cars below.
How To Play Among Hill Climber
To operate the vehicle, use the arrow keys. Use the mouse to make your choices and options.