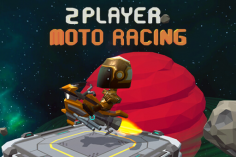 2 Player Moto Racing
2 Player Moto Racing is a simulation of motorcycle racing. You'll need to outperform the other competitors if you want to take first place.
You fight against other players in motocross races set in space in 2 Player Moto Racing. The courses are some of the most difficult and thrilling ever created for the sport. On each of the planets where the races are held, there will be contests for the races. This is your opportunity to demonstrate your prowess as a rider on these difficult and hilly routes that we have set up for you. Best of luck! Kicking the other rivals will remove them as a contender, so go ahead and give it a try. In order to emerge victorious from the competition for the space cup, you will need to complete the final stretch of the race on your flying motorcycle more quickly than everyone else.
How To Play 2 Player Moto Racing
Use your W, A, S, D, or Arrow Keys to drive the vehicles. Left SHIFT for Nitro and R Key to car reset.