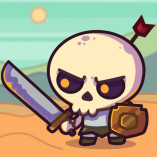 Raid Heroes: Total War
Raid Heroes: Total War, newly released and completely free, has intense battle that will leave you with unforgettable emotions. You can put on an impressive show of leadership and strategy while portraying a real-life landlord or military general. amazing mashup of RPG, strategy, idle hero, and auto-battle genres. Objects should be researched, improved, and reforged. Make improvements to your town's castle and guard it from invaders. There is a renewed danger to the kingdom! A large contingent of the Dark Lord's army has appeared on the outskirts of the battlefield, signaling the end of the conflict. Bring together your top fighters into a formidable squad. It's time for the clans to unite and play Total War to its conclusion. Defeat other players in the player versus player (PVP) arena by attacking their castles and engaging in combat with their squads using your own hero band.
How To Play Raid Heroes: Total War
If you want to assault a specific group of enemies in the raid, you can do so by clicking on them or by pressing the FIGHT button.

Put your heroes in the formation you want, then hit the FIGHT button to enter combat.