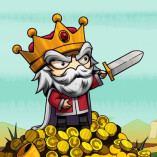 Raid Heroes: Sword and Magic
RAID HEROES: SWORD AND MAGIC is one of the most loved .IO action games. Play the game now to see this colorful and exciting world.
You are able to recruit a hero if you have five of his or her cards in your hand. The goal of this mission is action to assemble the most powerful team of heroes you can find so that you may triumph in the competition and finish the raid required to advance the storyline. Keep touching the screen and collecting awards to level up your knight, assassin, or any other hero in the game. They aren't just being heroic because they've gained a reputation for doing so in the arena; they actually earned it. The primary narrative about the war is divided into three sections. Each episode contains a number of unexpected twists and turns for the audience.
How To Play Raid Heroes: Sword and Magic
If you want to attack a certain group of enemies in the raid, you can either click on them or press the FIGHT button.

Set up your heroes in the way you want, and then press the FIGHT button to start a fight.