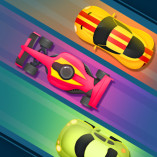 Lane Rush Pro
Lane Rush Pro is a racing game with lots of new and great cars. What are you waiting for without playing it right away and experiencing it?
Get a taste of the rush of energy that comes with driving on a freeway that is full of all kinds of cars. As you discover all the ways your card level can be used, you'll face a lot of exciting challenges. Let out your adventurous side and go on a quest to get all of the stars, finishing each stage successfully along the way. The game has a huge number of beautiful cars that will blow your mind.
Some other games in the similar vein include:
How To Play Lane Rush Pro
Use the arrow key to control the direction of the car on the track.