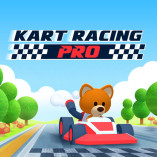 Kart Racing Pro
Kart Racing Pro has a bear that desperately needs your help to win this race. Help the bear, control it, and win the championship trophy.
Gain a competitive edge by utilizing the swift lanes and accelerating ahead of the competition. With our cutting-edge and visually stunning game, prepare to be astounded by the thrill of high-speed kart racing. Unleash your inner speed demon and leave your opponents in the dust with the art of swift swerving. Master the technique of deftly maneuvering left and right to achieve the ultimate victory. Optimize your runway potential and elevate your score with the acquisition of fuel packs. Feel the rush of triumph as you rev your engine and leave your opponent in the dust.
How To Play Kart Racing Pro
Use the arrow key to control the car.