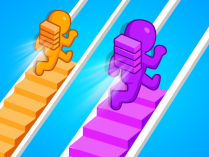 Bridge Water Rush
Bridge Water Rush is a popular stickman game. To win, you have to race to the finish line and collect as many wooden bars as you can.
You will play a game with other people. Get the wooden stick in the color that matches your character right away. Use it to make a bridge to win the game quickly. Don't forget that your opponent can change the color of their bridge to make it harder for you to move. This makes the game so hard that almost no one wins. You won't get bored because there are lots of people playing. Playing makes you want to play more and more.
How To Play Bridge Water Rush
Slide to move.